UCAA Homepage
2003 Men's Soccer Awards
The 2003 UCAA End-of-Season Awards, announced November 7.

2003 UCAA Player of the Year

Micke Subotowicz Hobart
Sophomore Forward (Stockholm, Sweden)
Subotowicz finshed second in the conference in both goals and points and is first with nine assists, including three game-winning assists. He was named UCAA Offensive Player of the Week twice this season, RACA Male Athlete of the Week once, and was selected to the Richard Stockton Classic All-Tournament Team. Hobart is 8-1 when he scores a goal. He recorded a hat trick against Rensselaer, and scored at least three points in seven different games. He ranks fifth on Hobart's career assists list as just a sophomore and fifth on both single season assists and points lists.

2003 UCAA Co-Rookie of the Year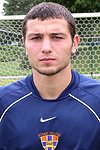 Farid Hafsia Hobart
Defender (Stockholm, Sweden)
Starting every game as a rookie, Hafsia has anchored a defense that allowed eight fewer goals than the previous season while posting four shutouts. He was named to the Richard Stockton Classic All-Tournament Team earlier in the season.

2003 UCAA Co-Rookie of the Year

Charlie Bogosian St. Lawrence
Forward (Manlius, New York)
Bogosian leads the Saints in shots with 44 and is tied for second place in points (11), goals (4), and assists (3). Bogosian is part of the Saint offense that has taken 309 shots on its opponents, 125 in conference play.

2003 UCAA Coaching Staff of the Year

Shawn Griffin Hobart
Griffin and assistant Danny Gilbertson guided the Statesmen to a 13-5-1 overall mark and a 4-2-1 conference record and the third seed in the UCAA Tournament. The 13 wins are an improvement from 10 last year and the most for any Hobart team since the 1992 squad went 15-0-1.

2003 UCAA All-Conference First Team
F
Charlie Bour
St. Lawrence
JR
Rochester, NY
F
Aldis Butler
Vassar
JR
Larkspur, CA
F
Ricky Klotz
Hobart
JR
Cortland, NY
F
Micke Subotowicz
Hobart
SO
Stockholm, Sweden
M
Dan Abroms
Hobart
JR
New Canaan, CT
M
Mike Galante
Hamilton
SR
Suffern, NY
M
Joseph Petruccelli
Vassar
SR
Flushing, NY
D
Farid Hafsia
Hobart
FR
Stockholm, Sweden
D
Joe Johnson
Rensselaer
SO
Hopewell Junction, NY
D
Evan Schutt
St. Lawrence
JR
Webster, NY
G
Paul Connors
Vassar
SR
North Andover, MA
2003 UCAA All-Conference Second Team
F
Charlie Bogosian
St. Lawrence
FR
Manlius, NY
F
Dimitry Maurice
Hamilton
SR
Snellville, GA
F
Ryan O'Dowd
St. Lawrence
JR
Malvern, PA
F
Wes Sherman
Hamilton
SR
Fort Myers, FL
M
Mike Carey
Union
JR
Westport, CT
M
Nick Mangee
St. Lawrence
SO
Webster, NY
M
Elliott Savitz
St. Lawrence
SO
San Diego, CA
D
Macky Diop
St. Lawrence
JR
New York, NY
D
Craig Li
Hamilton
SR
Briarcliff Manor, NY
D
Nate Malinowski
Vassar
SO
Livonia Center, NY
D
Mark Melly
Skidmore
FR
Farmington, CT
G
Rollie Kielman
Skidmore
JR
Hinesburg, VT