Liberty League Homepage
2007 Baseball Awards
The 2007 Liberty League End-of-Season Awards, announced May 10.

2007 Liberty League Player of the Year

Andrew Engebretson St. Lawrence
Senior Outfield (Long Lake, Minnesota)
Engebretson led all Liberty League players with a .466 batting average, including a .522 average in league play. His slugging percentage of .816 is nearly 200 points higher than the second ranked player in the league. He also leads the league in on-base percentage, runs batted in, home runs (8), total bases, and walks. Engebretson was a four-time selection as Liberty League Performer of the Week this season. Through games of May 6, Engebretson ranks 14th nationally in batting average and seventh nationally in slugging percentage.

2007 Liberty League Rookie of the Year

John Dreimiller Rensselaer
Pitcher (Ticonderoga, New York)
Dreimiller led all Liberty League pitchers with a 1.14 ERA this season, and ranks fourth among all NCAA Division III pitchers for games through May 6. He was also first in the league in fewest total runs allowed (13) and earned runs allowed (6) and did not allow a triple or a home run to any batter he faced. Dreimiller was a two-time selection as Liberty League Rookie of the Week this season and was also named Liberty League Pitcher of the Week on April 2.

2007 Liberty League Coaching Staff of the Year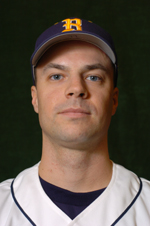 Joe Reina Rochester
Reina guided the Yellowjackets to a 13-5 mark and a third place finish in the Liberty League this season. Rochester will be making its third appearance in the Liberty League tournament in the last four years. Reina is assisted by Andrew Coble and Joe Lanning.

2007 Liberty League First Team
1B
Ken Carroll
Rensselaer
SR
Shelton, CT
2B
Jake Mendell
Skidmore
FR
St. George, VT
3B
Rob Hutchison
Skidmore
SR
Waterville, NY
SS
Ed Kahovec
Rochester
SO
Victor, NY
OF
Andrew Engebretson
St. Lawrence
SR
Long Lake, MN
OF
Sean Wilkes
Rensselaer
SO
Troy, NY
OF
Matt Yaworsky
St. Lawrence
SR
Liverpool, NY
C
Jason Pollard
Rensselaer
SR
Hudson, NY
P
Eric Giovannone
Union
SR
New Hartford, NY
P
Joe Zongol
Rensselaer
JR
Flower Mound, TX
RP
John Fishback
Rochester
JR
Webster, NY
DH
Joe Regonlinski
St. Lawrence
GR
Wayland, MA
2007 Liberty League Second Team
1B
Colin McKelligan
Union
FR
Canton, MA
2B
John Mandel
Vassar
SR
Fort Lauderdale, FL
3B
Jim Devine
Rensselaer
SO
Castleton, NY
SS
Ryan Duff
St. Lawrence
FR
Concord, MA
OF
Mike Bresett
Clarkson
SO
Norwood, NY
OF
Greg Carlow
Skidmore
JR
Mystic, CT
OF
Adam Lasek
Rensselaer
SR
Waterford, NY
OF
Dan Valentine
Rensselaer
JR
Goshen, CT
C
Zach Tillo
Union
JR
Lancaster, MA
P
John Dreimiller
Rensselaer
FR
Ticonderoga, NY
P
Blair Veenema
Rochester
SO
Fairport, NY
RP
Steve Magovney
Clarkson
FR
Watertown, NY
DH
Patrick Reardon
Rensselaer
FR
Troy, NY
Honorable Mention: Andy Cannon OF (Rochester), Scott Caroll 2B (Union), Matt Carrigg OF (St. Lawrence), Ryan Duff RP (St. Lawrence), Andrew Ford 3B (St. Lawrence), Mike Gipson P (St. Lawrence), Ryan Glavin C (Clarkson), Shane Griffin 2B (Rensselaer), Chris Kerr P (St. Lawrence), Spencer Marcus OF (Skidmore), Matt Muscatiello SS (Rensselaer), Mike Salamone DH (Skidmore),