Liberty League Homepage
Liberty League Scoreboard
Today
Yesterday
Tomorrow

2009-10 Archives
2008-09 Archives
2007-08 Archives
2006-07 Archives
2005-06 Archives
2004-05 Archives
2003-04 Archives

2011 Men's Basketball Awards
The 2011 Liberty League End-of-Season Awards, announced February 24.

2011 Liberty League Offensive Player of the Year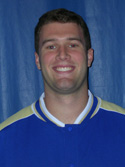 Pat Sullivan Hamilton
Junior Forward (Madison, New Jersey)
Sullivan has been named to the league's team of the week seven times this season. He leads the league in scoring (17.3 ppg), and is ranked seventh in rebounding, third in field goal percentage, 12th in free-throw percentage, 10th in offensive rebounds and fifth in defensive rebounds.

2011 Liberty League Defensive Player of the Year

Tim Llewellyn Hobart
Senior Guard (York, Pennsylvania)
The league leader in steals, Llewellyn holds Hobart records for steals in a game, season and career. All four of his season steal totals rank in the top 7 of Hobart history. He recorded three or more steals in 14 games this season. Additionally he ranks fifth in the league in assists, seventh in three point field goals made, and 8th in three point field goal percentage.

2011 Liberty League Rookie of the Year

Richie Bonney Hobart
Forward (Norwich, New York)
A six-time selection as Liberty League Rookie of the Week, Bonney ranks among the league leaders in offensive rebounds (third), rebounds per game (fifth), defensive rebounds (seventh), and free throw percentage (13th). His season highlights included a 16-rebound effort at Ithaca and a season-high 18 points, all before halftime, in a win at Rensselaer.

2011 Liberty League Coaching Staff of the Year

Mike Griffin Rensselaer
Griffin guided a team picked to finish sixth in the Liberty League standings to a share of the conference regular season title. The Engineers, who are riding a seven-game winning streak, lead the league in a number of categories, including blocks, rebounding offense and offensive boards. Five players have garnered 11 weekly honors, while five were All-Academic selections. Griffin is assisted by Paul Halas, Bob Hummel and Jeff Hiser.

2011 Liberty League First Team
G
Gerard O'Shea
Skidmore
JR
West Sand Lake, NY
F
Matt Pebole *
Hobart
JR
Red Bank, NJ
F
Pat Sullivan *
Hamilton
JR
Madison, NJ
G
Ralph Temgoua
St. Lawrence
JR
Paris, France
G
Stefan Thompson
Hobart
SO
Syracuse, NY
* Unanimous Selection
2011 Liberty League Second Team
G
Jeff Altimar
Skidmore
SR
Medfield, MA
G
DJ Blakemore
Rensselaer
SR
Bloomfield Township, MI
F
Matt Covucci
Union
SR
LaGrangeville, NY
G
Travis Jones
Rensselaer
SR
East Greenbush, NY
G
Felix Llanos
Clarkson
JR
Queens, NY
G
Garrett Sharlow
St. Lawrence
JR
Massena, NY
Honorable Mention: Keven Donohue F (Union), Drew Goldstein G (Union), Tim Llewellyn G (Hobart), Ephraim McDowell G (Hamilton)
2011 Liberty League All-Rookie Team
F
Richie Bonney *
Hobart
Norwich, NY
G
Matt Dean
Hamilton
Franklin, MA
G
Joe Gibbons *
Rensselaer
Lindenhurst, NY
G
Blair Helton
Hobart
Buffalo, NY
F
Nate Uline
Clarkson
Gansevoort, NY
G
Ryan Wright *
Hamilton
Upper Marlboro, MD
* Unanimous Selection
Honorable Mention: Marques Charlton G (Clarkson), Greg Newton G (Hamilton)